In the following section 2 possibilities are shown how you can import the product range of your supplier into a store.
Navigation in the shop
Create Shop - define the basic settings of your Shop, like Name, Order Type, Minimum Order Amount..
Products - add the assortment.
Commodity groups - define the product groups like fruits, vegetables, diary products.
Back to Shops - get back to the order area.
Click on Products to import your products from the supplier. There are two possibilities: Single Item or Excel Import.

Single Item
Before adding single items define your Commodity Groups such as beverages, wine, fruits.

Click on Single Item to add your product.

Add the data of your product like base data, categories, units&prices, identification, sale of quality.
Click on Save to confirm.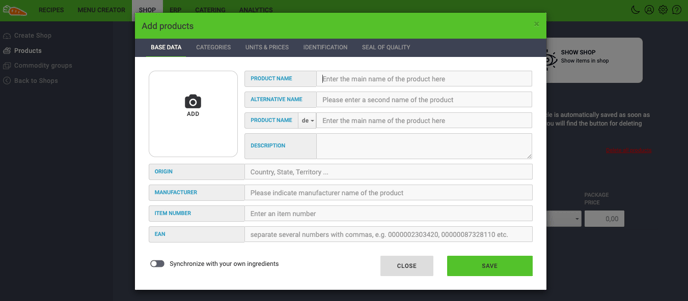 Excel Import
For a large number of products we recommend to import the products via Excel Import.
Click on the button Excel Import and on the link Download Excel Form.

The Excel Form opens, now you can add all your products in the Excel Form.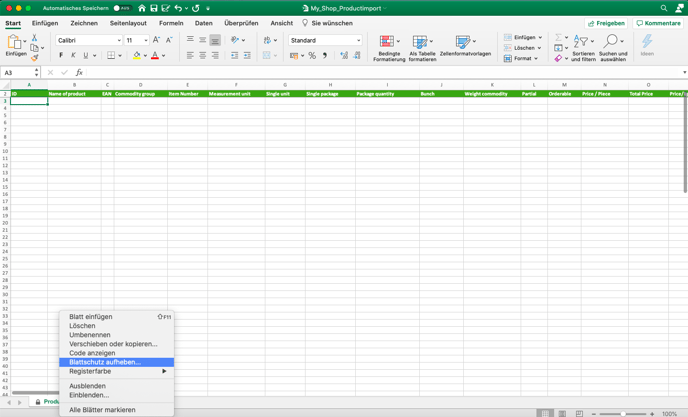 If you finished that step, save to confirm and switch back to your FoodNotify Account to upload your list via click on Choose File.


If you already have items in the shop and you want to add more, you can download the existing list and add the additional products in the list below. To make sure that the import runs smoothly, we recommend to delete the ID's in the left column before.

Here you´ll also find the Excel Form for adding items.