See how easy it is to place all your orders via FoodNotify.
Click on Shop in your FoodNotify Account.
Choose the Shop where your want to order from.

The product list of the shop opens.
The box with the grid allows you to switch to the product list or back to the image view.

For some products you have the possibility to choose whether you want to order by unit or by single packaging (depending on whether the supplier allows this or not).
To do so, click on the unit (underlined in blue) and change it as required.
Click on Add to cart to add products and minus or plus icon to change the quantity of the products.
Click on Cart to open the shopping cart.

In the shopping cart is shown if the delivery will be on another delivery day (this results from the settings made before).
Adjust the quantities if necessary.
Change the cost center if available.
Add a comment for the supplier (in case of a test order, you can also note this information here).
Click on Send Order to place the order.
Depending on the connection of the store, the order is either sent to the supplier by e-mail or in the background in a previously agreed format (EDI,..).

To get an overview of the orders you have placed, click on Orders in the left sidebar.

Click on an order, to open it. Now you have the possibility to order the same products again or to add more.
Via clicking on PDF Download you can open and print them in PDF format.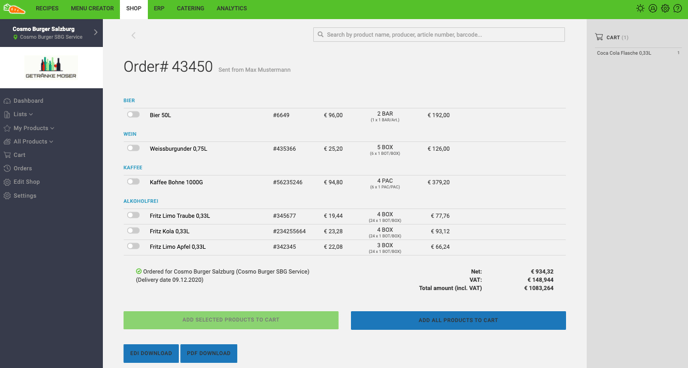 As soon as the orders have been delivered, they must be accepted and imported into the ERP system. Read here how to accept orders.